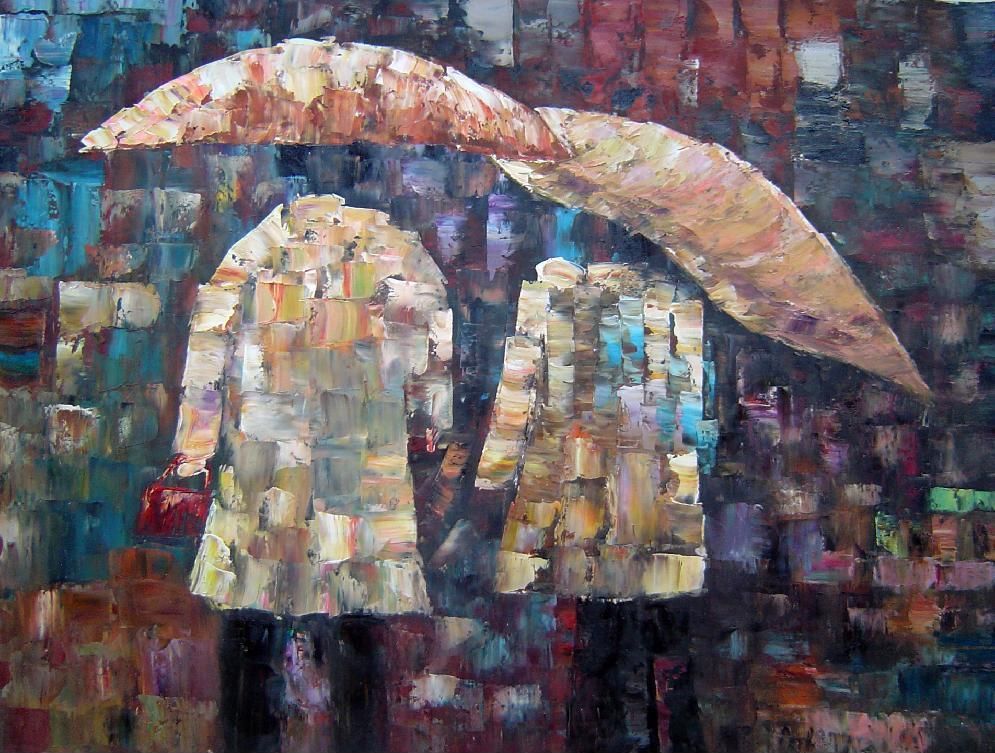 May 2016
The woman had something to tell everyone. Her green ankara wrapper was almost falling off her waist, revealing her black underwear. One end of her scarf that was hurriedly tucked behind her ear had removed and was now floating on her shoulder, beads of perspiration covered her face. But she did not care about all that. She had something to tell everyone in the market, and that was all that mattered. "Ejowo, e ran mi l'owo," she said. She would appreciate whatever amount we could give. Cancer was slowly eating her sister away.
I beg you. God bless you. You will not die young.
There was an urgency in her pleas, in her prayers. I saw a few notes squeezed in her palms, mostly twenty naira. As I watched her, I suddenly came to the realization of how much humans fear death. How we resist and fight it with all our might, despite being aware of our mortality all our lives. Seeing her in that moment made me think of my aunt's husband. Cancer, too, was taking him in pieces. I imagined him lying on the hospital bed, his wife holding his hand, watching his chest rise and fall.
September 2016
The man whose shoulder my aunt is leaning on in this photograph is dead. They were both standing, faces glowing, and lips stretched in bright smiles. Her skin was a smooth yellow. They were young and in love, brimming with life. As I stood now, watching her walk to the small area enclosed with white clothes, ribbons and flowers, her body was more rounded, skin glowing yellow still, a few wrinkles dotting the edges of her lips, marking her years. Their years.
Here, one was standing, the other lying; one moving, the other still. She placed her hands on the gold edge of the white coffin. I watched her looking down at her husband's body; those strong arms that had held her for four decades, the shoulder she had leaned on. What was she going to do now? What did she do as life leaked out of him? What did she do when the machines surrounding him could no longer do what they needed to do? What did she do as his fingers dug into the bed, his lungs fighting to get one more breath? What did she do when he became still? If she were to pray, what would she have prayed for—to commit his soul into God's hands or to ask that he help him stay another day? It is one thing to know that death will come one day, but nothing adequately prepares people for that moment it arrives.
One of the saddest things that can happen to someone is to die and be forgotten—forgotten as though they never existed. At the wake-keep, family and friends testified to his life and deeds, how he deposited himself in their memories.
He got me a job
He helped with my financial needs
He always asked after me
In the tribute, my aunt wrote: "I thank God for the privilege he gave me to share in your pain." Their son-in-law talked about the day he and his wife were watching a movie with him, and despite being in pain, he had laughed hard. So hard, he said. And he and his wife had joined him to laugh. He stopped speaking as his words almost brought the urge to weep. They could not take the agony away, but I imagined their love stood between him and the pain, widening the gap. The pain was not his alone, just as his laughter was not his alone.
When I saw that woman in the market, the other thought that came to my mind was: how fortunate it is to have someone in one's life who would do anything to help them stay alive. I was reminded that with family, we have people to fight for us to keep occupying a space on earth. The twenty naira notes might not amount to much in furthering her treatments. But her sister had her, she had her, and she was not going to fold her arms and do nothing. She was going to keep begging until she had raised the money needed. Perhaps her sister will survive, perhaps her body will surrender to the cold, crooked arms of death.
Family related by blood, and family chosen, came from far and near. Not only to bid the dead farewell and ensure he had a befitting end, but also to comfort the living. People talked and laughed with my aunt. Although there was little anyone could do to assuage her feelings, they wanted to share in her burden. It was as though in carrying her bag and serving her food, my life became more useful. As I prepared to leave a few days later, she called her driver to drop me off at the park. There was a sudden urge to say something, anything. What do you say to someone who just lost her lifelong partner? The car jerked to life. It was time to go. I turned around and realized she was still standing where we said our goodbyes, watching me. "Take care of yourself, ma," I said. She smiled and replied, "I will."
As the car drove out of the compound, I remembered how, the day after I arrived, everything around me felt faraway: the clinking of plates and cutlery, the voices, the entire house suffused with aroma of bean cake. I walked around the compound, thinking of how his feet had walked those places. Memories started coming back to me. In one, I was in the living room with my cousin, his last child, watching Drag Me to Hell. He came into the living room and, in wonder, asked why, of all movie genres, it was horror we decided to watch in the middle of the night. He smiled and returned to his room. There were other memories, but there was none in which he was not smiling. His smile, that smile that made you believe he truly cared about you, had burnt in my memory.